US unveils new $800 billion plan to loosen credit
The money will go to unfreeze mortgage and consumer lending.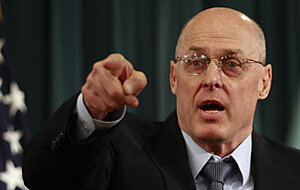 Jason Reed/Reuters
Right now, the US Treasury and the Federal Reserve are like plumbers determined to get water flowing again through a system of clogged pipes. Each time they think they've got things working, another faucet stops up, and they have to drag out new and bigger tools to address the latest aspect of the ongoing US financial crisis.
In their most recent effort, the Treasury and the Fed on Tuesday unveiled a pair of programs intended to provide $800 billion to help unfreeze consumer lending. Such credit essentially came to a halt in October, according to Treasury Secretary Henry Paulson, threatening already battered retail and housing markets with grave further damage.
In essence, the US government may be trying to bypass banks and get money to consumers in a somewhat more direct manner. It's just the latest surprise in a rescue effort that's had many – and will probably have more.
"It's not a simple procedure, unclogging the banking system," says Doug Roberts, chief investment strategist at ChannelCapitalResearch.com.
Under a new Fed program for consumer debt, the US government will lend up to $200 billion to financial institutions that hold securities backed by various types of consumer loans such as credit cards and auto and student loans. The goal is to provide greater demand for these securities, which in turn should make more money available to the consumer loan market, in the end leading to lower consumer interest rates.
---