Will smart-phone friendly mileage stickers help car buyers make smarter choices?
The EPA's next generation of mileage labels are smart-phone friendly and were designed to give consumers more ways to compare the efficiency and pollution levels of vehicles of all engine types.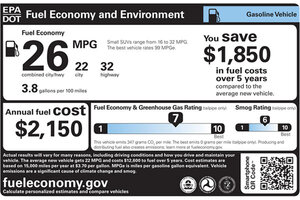 EPA
Amid soaring gasoline prices, the Obama administration Wednesday unveiled new fuel-efficiency labels to appear on 2013 vehicle models that feature a host of new comparison points on mileage and will even enable smart-phone users to scan labels and compare multiple vehicles as they tromp through showrooms.
Touting it as the biggest-ever overhaul of the 35-year old labeling system, the evaluation system developed jointly by the Environmental Protection Agency and the Department of Transportation is supposed to help consumers compare a range of "next generation" vehicle technologies – hybrid, plug-in hybrid, all-electric, flex-fuel and natural-gas-powered vehicles – as well as traditional gasoline engines.
"Today's car buyers want the best possible information about which cars on the lot offer the greatest fuel economy and the best environmental performance," said the EPA administrator, Lisa P. Jackson. "The new labels provide comprehensive information to American car buyers, helping them make a choice that will save money at the gas pump and prevent pollution in the air we breathe."
A Consumers Unions survey released Wednesday found 62 percent of car owners would consider better fuel economy as a key attribute in their next new car, with 58 percent saying they would pay more for a car that used less fuel.
---