Bleak teen jobs outlook: 25 percent unemployment and stiff competition
Teen jobs are hard to find as they compete with laid-off adults and fewer public-sector jobs. Some cities are raising cash to fund summer jobs.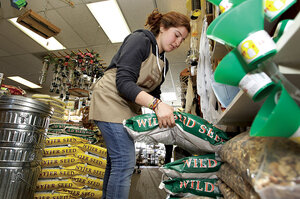 Tony Avelar/The Christian Science Monitor
It's never been easy being a teenager. Now, try being a teenager looking for work.
Only 1 in 4 teens is working today – the lowest proportion since the end of World War II, according to one researcher. Although some programs are trying to help young Americans get jobs, the unemployment rate for 16-to-19-year-olds who want to work now stands at 24.2 percent, according to the May report from the Bureau of Labor Statistics, released Friday. Among African-American teens, the rate is 40.7 percent.
"I am not hesitant about calling it a crisis," says Christine Owens, executive director of the National Employment Law Project, an advocacy group.
It's a crisis with potentially important implications. When teens can't find work, they have time on their hands and can be prone to getting in trouble. One particular problem can be higher incidences of teen pregnancy. Also, in the long run, teens who don't work miss out on developing important skills for later on, such as learning to take orders from supervisors, getting along with co-workers, and coping with criticism.
"The more work experience they have, the higher the wage when they reach ages 20 to 25 years," says Andrew Sum, director of the Center for Labor Market Studies at Northeastern University in Boston. "Many employers who are hiring say the kids don't have the 'soft' skills, but the only way to get them is to be in the workforce. So not having a job today affects employability in the future."
---