Can Warren Buffett and Bill Gates save the world?
How the Giving Pledge, Bill Gates and Warren Buffett's quest to get billionaires to donate half their wealth to charity, will impact philanthropy and the world's needy.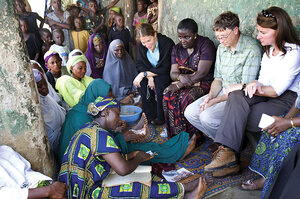 Courtesy of Prashant Panjiar/the Bill & Melinda Gates Foundation
Twenty-five years ago, when Steve Hilton was an entry-level guy working in the file room at his family's foundation, he sometimes had to explain his place within the family legacy.
His grandfather Conrad, the son of an immigrant shopkeeper, turned a single 40-room hotel in Cisco, Texas, into an international empire – the ur -American tale of self-made wealth. His father, Barron, expanded the family business even more, eventually selling the hotel conglomerate in 2007.
But both these Hiltons gave away the vast majority of their fortunes, putting their billions into a charitable trust charged to "relieve the suffering, the distressed, and the destitute."
"When I first started, and people said, 'What do you do?' I would say, 'Well, I work for a foundation,' " says the younger Mr. Hilton, now the president and chief executive officer of the Conrad N. Hilton Foundation, the 25th largest charitable trust in the world. "And they would say, 'Oh, you're in construction?' I'd say, 'No, we give money to charitable groups.' And then there'd be a long pause. Then they'd say, 'You don't do that full time do you?' "
Today, however, from icons of pop culture to titans of American business, the act of giving away money, even in staggering sums, is gaining a new cultural momentum. Call it a new form of noblesse oblige, complete with modern media hype and celebrity cachet: It's the rich and the famous now who lead the entreaties to give.
---