Generation 2 crib recall: Stop using your crib now, CPSC warns
(Read article summary)
US consumer watchdog orders a recall on half a million Generation 2 cribs.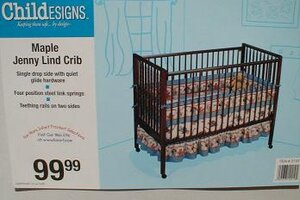 Consumer Product Safety Commission
All Generation 2 Worldwide and "ChildESIGNS" drop-side cribs, an estimated half a million units, are being recalled by the US Consumer Product Safety Commission (CSPC) after three infants died of suffocation after being trapped between the mattress and a broken side panel. A further hazard is posed by the potential for the mattress to separate from its underlying support, creating a space that could trap toddlers.
In addition to the three fatalities, the CPSC reported 20 incidents involving the crib's drop side and eight involving problems with the mattress.
Parents are advised to stop using their cribs immediately, the CPSC says in a press release. While previous incidents, like the November 2009 recall of 2.1 million Stork Craft cribs, have included the promise of a safety-repair kit for affected cribs, no kit will be forthcoming from Generation 2 because the company went out of business in 2005.
The CPSC did not return calls seeking comment.
Instead, consumers are directed to contact the retailer from whom they purchased the crib in order to obtain a refund, a replacement crib, or store credit. The CPSC asks consumers to "report any difficulties in obtaining a remedy from their place of purchase." The CPSC's recall hotline can be reached at (800) 638-2772.
---