Egg recall brands: Add these five to egg recall list
(Read article summary)
Egg recall brands now include Hillandale Farms, Sunny Farms, Sunny Meadow, Wholesome Farms, and West Creek.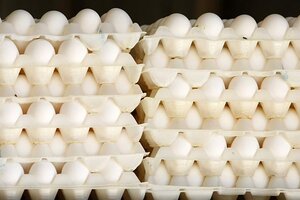 Mike Blake/Reuters/File
[Editor's note: The list of brand names and plants involved in the egg recall expanded on Aug. 26. For an updated list, click Egg recall list expands.]
The egg recall has expanded again, this time involving a second Iowa egg company: Hillandale Farms of Iowa. The company said Friday some of its eggs, sold as late as Aug. 18, had the potential to be contaminated with salmonella.
The recall involves eggs distributed to 14 states: Arkansas, California, Iowa, Illinois, Indiana, Kansas, Minnesota, Missouri, Nebraska, North Dakota, Ohio, South Dakota, Texas, and Wisconsin. The egg recall brands include: Hillandale Farms, Sunny Farms, and Sunny Meadow in a variety of packages, including in 6-egg, 12-egg, 18-egg, and 30-egg cartons as well as five-dozen cases.
---