Facebook shares down nearly 50 percent. Set for another fall?
(Read article summary)
Facebook shares are outrageously overpriced, even after a 45 percent decline from its initial price. Starting Thursday, Facebook shares may fall even more as more shares are allowed to be sold.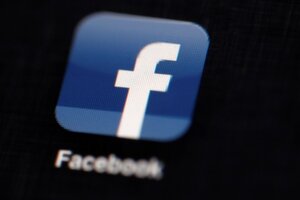 Matt Rourke/AP/File
You bought Facebook (FB) stock during its May initial public offering at $38? Too bad. It closed at $20.38 Tuesday, its second-lowest close ever and a 46 percent drop in 12 weeks.
But far worse is yet to come. This stock is worth no more than $7.30 a share and the really big sell-off could start as soon as this Thursday.
Why Thursday? Until now the number of shares in Facebook that have been freely tradable has been limited by lock-in agreements covering original investors who paid as little as 50 cents a share. Lucky them. Those lock-ins start to unravel on Thursday when 268 million shares will be released (more than half the shares offered in May). This will be followed by 247 million released on Oct. 14, 1.33 billion on Nov. 13, and 124 million on Dec. 13. At a stroke, the free float of shares increases by 50 percent on Thursday and by 276 percent by November. Putting this in context, over the past 10 trading days the average number of shares traded has been 39 million a day. So nearly 20 million shares bought and the same number sold. On top of this will come this huge wave of earlier owners of Facebook, who even at $21 a share will have made vast gains.

Why will many sell? Firstly, those with early lock-in expiries will sell before later expirees get the chance. Secondly, because capital gains tax may well rise in 2013. And thirdly, because on fundamentals, Facebook is still grotesquely overvalued.
But Facebook is growing, is it not? Yes and no. In the second quarter earnings statement, Mark Zuckerberg's company boasted that headline users were approaching 1 billion. But the value of a company is determined not by headline users but by its ability to turn users into cash flow. Since the earnings report, it has emerged that around 1 in 10 users is of no use to an advertiser, since it is either a pet (dogs do not buy online), a 'bot ( an automated computer program – purchasing power nil), or a duplicate account (for users so boring that the only person to "friend" them is themselves).
---