Kerry's support for military coup in Egypt undermines US position in Middle East
Secretary of State John Kerry's said the military coup in Egypt was 'restoring democracy.' This view confirms Muslim Brotherhood claims that the US would rather prop up a military dictatorship than accept an elected Islamic government. Leaders must choose their words accurately.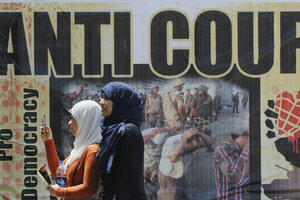 Amr Nabil/AP
Recently, US Secretary of State John Kerry said in Pakistan that the overthrow of President Mohamed Morsi in Egypt was "restoring democracy." He has since tried to clarified his comment and said that Egypt's "temporary government has a responsibility with respect to demonstrators to give them the space to be able to demonstrate in peace." But his statement continues to make waves.
Global Viewpoint asked Ayaan Hirsi Ali, the Somali women's rights activist and author of "Infidel," and the French philosopher Bernard-Henri Levy, who persuaded then-French President Nicolas Sarkozy to take military action in Libya, to respond to Kerry's remarks.
It is a mistake for Secretary of State John Kerry, representing President Obama, to have come out with a statement like this. Honestly, when I read it, I thought he must have blurted it out. It seemed like an impulsive, un-thought-through remark.
---