Why George Zimmerman should not be 'crucified' for killing Trayvon Martin
Passionate citizens and leaders have no right to declare neighborhood watch captain George Zimmerman guilty of murdering Trayvon Martin. Due process in the legal system determines that guilt or innocence. Equating justice with imprisoning Zimmerman or firing officials is premature.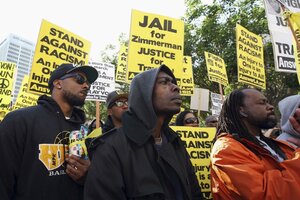 REUTERS/David McNew
"But they kept shouting, 'Crucify him, crucify him.'" Pontius Pilate finally relented and gave the crowd what it wanted. Pilate, who could find no reason why Jesus should die, could not resist the crowd's call.
Listening to Sunday's sermon I wasn't thinking of the Passion or the Resurrection, but of Trayvon Martin. He was killed by neighborhood watch captain George Zimmerman.
The initial judgment from police was that the shooting was in self-defense only to be contradicted by media reports that the attack was unprovoked. One police investigator disclosed doubts about Mr. Zimmerman's story. And yet, police revealed that Zimmerman was attacked by Martin first, and that Zimmerman then shot him. Now, police video released yesterday appears to contradict Zimmerman's story of injuries sustained.
As of now the general public does not know the entirety of what took place that night. All we know for sure is that a young, unarmed African American man was shot and killed. The nation has been overwhelmed by grief and sympathy for Trayvon and his family. And what has turned grief into anger in some is that Zimmerman was released and not charged that night.
A young man was killed and another man was allowed to walk away. Much of the nation, and those who are closest to the case, want justice for Trayvon's death. But I fear the cry for justice will turn to a cry for something much worse. And in some ways, it already has.
Before we can ask for justice we must be clear about what justice is.
---