Israel should rethink its strategy against Hamas in Gaza
Israel has dealt with Hamas through a policy of isolation and military containment. The recent escalation of violence in Gaza calls for a reconsideration of this strategy. Israel's military response only offers a temporary palliative against a broader, inherently political problem.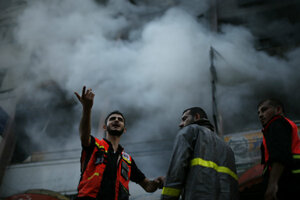 Suhaib Salem/Reuters
Since Hamas won the Palestinian legislative elections in January 2006 and subsequently took control of the Gaza Strip in June 2007, Israel has dealt with the "Islamic Resistance" through a policy of non-recognition, political isolation, and military containment. The recent escalation of violence in Gaza should call for a reconsideration of this strategy.
The rules of the game between Hamas and Israel became especially clear after the Israeli operation "Cast Lead" in December 2008-January 2009. Israel's military air and ground offensive against Hamas in Gaza at that time was waged with the objective of creating a "credible deterrence," and led to a period of relative quiet for Israel.
Immediately following Cast Lead, Hamas acted in a predominantly restrained fashion. It mostly refrained from participating in rocket attacks against Israel and prevented other armed groups within Gaza from operating freely. In return, Israel's military involvement in Gaza diminished, although it did not reconsider its policy of isolation and non-recognition of Hamas.
To be sure, this unwritten agreement was far from idyllic: Attacks from the Gaza Strip never fully ceased, Israel's military operations in Gaza did not come to a total halt, and short-lived escalations of violence occurred periodically. What's more, Hamas's "restraint" seemed to diminish with the passing of time. In the past few months, Israel came to the conclusion that Hamas was no longer playing according to "the rules," noting its increased involvement in rocket attacks and its growing reluctance in stopping other groups from perpetrating attacks of their own.
Israel calculated that killing Hamas's military wing commander Ahmed Jabari and stepping up Israeli military operations would "restore deterrence," going back to a post-Cast Lead situation of relative quiet. It seems Israel decided to use military force to weaken Hamas's military arsenal while also hitting its resolve to fight.
---