Sandy Hook exposes the logic gap in NRA's opposition to gun control
After Sandy Hook shooting in Newtown, we hear arguments against gun control, chiefly that laws won't keep guns from evil-doers. But no one would argue that homicide laws have no place just because they can't stop all killings. The point is, gun control will reduce carnage, if not stop it.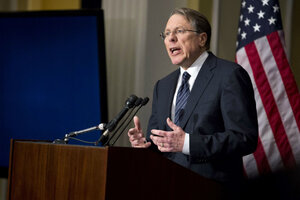 Joshua Roberts/Reuters
The main arguments against tougher gun control being trotted out again after the mass shooting in Newtown, Conn., represent a fallacy of logic – perhaps not clearly seen until now.
You've heard the counter-arguments before, often from the National Rifle Association or NRA: Such laws won't keep guns out of the hands of those determined to use them unlawfully; miscreants bent on evil will have their way with or without guns; and the violence at Sandy Hook Elementary School presents a mental health issue, not a gun-control question.
It will be argued in the coming weeks and months that bans on semi-automatic weapons and high-capacity ammo clips as well as stricter standards and longer waiting periods for gun permits are simply off the mark or ineffective. And after the media refocus on the fiscal cliff and Syria, the arguments may very well help thwart reform as they have countless times before.
Indeed, Congressman Pete Sessions of Texas tells us "Guns aren't the problem; sick people are." Former Arkansas Gov. Mike Huckabee let us know that "[w]hen somebody has an intent to do incredible damage, they're going to find a way to do it." And, as commentator Bill O'Reilly told us right after the massacre in the Colorado movie theater, "The truth is, criminals will always get guns."
---