Christmas shopping: A pink kitchen set and the 'buying local' dilemma
I wasted hours looking for a cheaper version online, when my dad was willing to pay more at the local store. He made me realize that I was all about 'buying local' until I had to shell out more money. I've learned: I can't always pay more, but I don't always have to pay less.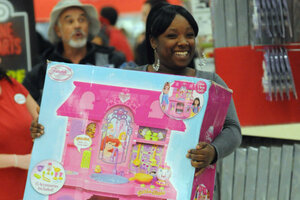 Mike Spencer/Wilmington Star-News/AP
My father called me in distress. "I can't do it, Brookie," he told me. "I couldn't show my face downtown at Haines & Essick if we buy the kitchen online."
He was trying to buy a Christmas present for my three-year-old at a store in Decatur, Ill. where I grew up, but I had found a less expensive toy kitchen online. I shouldn't have gotten involved, but in my constant pursuit of a better deal, and my inherent cheapness, I didn't want him to pay too much. Now in addition to squashing his enthusiasm and Christmas spirit, I seemed to be stomping on my father's moral code.
Every holiday season, he sends me a check to pick out gifts for my children, except last year. During our Thanksgiving visit to Illinois, Dad got such a kick out of watching his granddaughter pretend to cook he decided she needed her own mini range and refrigerator.
On his lunch hour from the firm where he has worked since the day he graduated from law school, Dad went to Haines & Essick. The small stationary and gift store has been a Decatur institution since 1902. Today, it is one of the few stores left downtown, which sadly has more parking spaces than places to shop.
Before we were even back home in Maine, Dad had e-mailed me a picture of a kitchen the store could ship just in time for Christmas. My 70-year-old father had never sent me anything online so his behavior was noteworthy. We do e-mail, but it's a process that involves his secretary, Ginger, printing out my messages for him to read, and then my Dad dictaphones his response for Ginger to type up and e-mail back to me.
---