As a gun owner, I agree with Obama's proposed ban on high-capacity magazines
In response to the Sandy Hook tragedy, President Obama wants to restrict high-capacity ammunition magazines to 10 rounds. As a hunter, like my grandfather before me, I agree. Sitting in a duck blind in the quiet gray at dawn, two or three shells in a shotgun are all you need.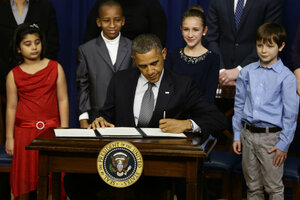 Charles Dharapak/AP
Count me among the many gun owners who don't think President Obama is infringing on our Second Amendment rights by proposing a ban on high-capacity ammunition magazines.
Since the terrible events at Sandy Hook Elementary School, I have been thinking about guns and my grandfather. There were always guns in my grandfather's house, and there are guns in my house.
I grew up around guns. My grandfather was a hunter, and I am a hunter. Some of my fondest memories of my grandfather are of walking with him in an Iowa corn field during pheasant season, sitting next to him in a duck blind on the Missouri flyway, and the two of us watching a rising covey of quail in the northwest timber pasture.
Guns always had rules. I remember my first BB gun being taken away when I was caught pointing it at something I shouldn't. When I was a little older, I was allowed to carry a single shot .22 rifle while I followed alongside my grandfather in the field. However, I was not allowed to carry ammunition. I had to first learn to be aware of where my gun was pointed.
"A man who doesn't pay attention to the muzzle of his gun doesn't pay attention to anything," my grandfather would say. Once I was caught pointing my .22 at a barn. "The gun's empty," I protested when reprimanded. "Every gun-accident story I've ever heard involved 'an empty gun,' " my grandfather would say.
My first shotgun was a semiautomatic 20 gauge. It didn't take me long to find and remove the wooden plug in the magazine that limited the ammunition capacity to three shells. I knew the plug was required by federal law for duck hunting, but in my young mind, I reasoned, "I'm not duck hunting, what's the point of keeping my shells in my pocket, when I can carry them in my gun?" Actors in my favorite westerns and war movies always had plenty of ammunition in their guns. Besides, I had a "real" gun now, like the men I hunted with, and I was making up for all those days carrying a gun with no shells.
The first time my grandfather watched me feed five shells into my gun, he looked at me soberly and said, "Nobody needs more than three shells. If you miss with the first two, you're probably going to miss with the third."
---