How I came to accept guns – to a point
I used to simply want guns gone. But then I met my fiancé, a professional machinist who loves target shooting. Turns out, I'm a good shot, too. Chris has shown me there may be a compromise on gun control: Before you can buy a gun, you should have to be carefully licensed.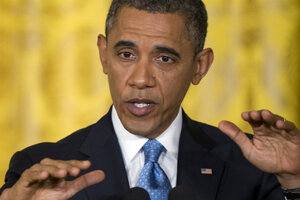 Carolyn Kaster/AP
I never liked guns. I didn't grow up around them, and while I support deer hunting, I never saw a reason for anyone who's not a cop or soldier to have a handgun, or semiautomatic, or anything other than a hunting rifle. Those kinds of guns are made to kill people, and no one should be killing people, except in the line of duty.
Then I met my fiancé. He didn't have guns, but he had knives – mostly utilitarian, but a couple clearly designed for injuring people. He is a professional machinist, and he's interested in anything carefully crafted from metal. His most expensive knives were in a safe, and he certainly didn't carry them or brandish them or get them into any kind of situation where he would stab anyone. He saw them as a classic example of a machinist's trade.
It's weird, I thought, but I get it. Well-made gear is a lovely thing, whether it's camping equipment, or fishing tackle, or furniture. There's an element of design and care, and in the case of Chris's knives, raw materials and handcrafting at the highest levels.
Then he bought a gun. A really scary-looking semiautomatic rifle like those carried by soldiers in Kevlar. And I was upset, for all the reasons I mentioned above. It seemed so unnecessary, and silly, in a way. And there's always a risk of an accident or a theft.
Chris uses his gun to go to the range and target shoot. He's a good shot, and he enjoys it. And I've gone with him, and it turns out I'm a good shot, and I enjoy it, too. Chris is obsessed with gun safety: He never keeps it loaded, he always has the safety on, and he has drilled it into me to never point the gun at anyone – even if it's empty. He's adamant that when we have children we will always have a proper gun safe and trigger locks, and that we will teach our child how dangerous guns are.
His affection for guns is just like his affection for knives. They are masterpieces of engineering and mechanical design, and the machining of quality guns is a real craft. For Chris, target shooting is both a sport and a way to appreciate his own machinist trade.
---