The NRA call for armed guards in schools
The NRA's call for gun-carrying guards in schools shows it joins with other Americans in caring even more about children after the Sandy Hook shootings. But history also shows violence declines when children are taught how to counter violence by means other than violence – such as caring for others.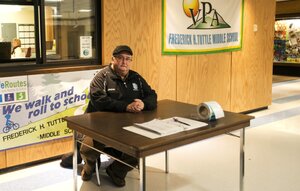 Maddie McGarvey/The Burlington Free Press/AP Photo
Ya gotta love 'em. No, really, you've got to love the way the National Rifle Association (NRA) and its 4 million members have responded to the school shooting in Newtown, Conn.
On Friday, the pro-gun lobby suggested every public school have armed guards. The proposal would further turn schools into fortresses, like medieval castles, in the hope that it would stop another shooter like Adam Lanza. In short: Meet force with force.
But the NRA really deserves praise for increasing its concern for schoolchildren (more later on why that matters). Its chief executive, Wayne LaPierre, said: "Now, we must speak … for the safety of our nation's children. Because for all the noise and anger directed at us over the past week, no one – nobody – has addressed the most important, pressing, and immediate question we face: How do we protect our children right now, starting today, in a way that we know works?"
For many people, it's easy to embrace the NRA's proposal. Many public places from airports to malls already have armed guards. And many homeowners keep guns for protection.
Some data seem to back up the NRA's idea.
A study by the Ohio-based National School Safety and Security Services found that most of the 121 attempted or planned assaults on schools between 2000 and 2010 were halted by law enforcement interventions. School officials themselves halted 19 of them.
Another – and controversial – study in The Journal of Criminal Law and Criminology estimated that Americans used guns to defend themselves 2.1 million to 2.5 million times a year. (Scholars still debate the 1995 study's survey methods.)
But the best part in the NRA's idea isn't that the pro-gun group has suggested a new way to defend innocent children. Its opponents are equally adamant in seeking curbs on guns – also in an effort to protect kids.
---