Long history of US school shootings means Obama is right, NRA is wrong
Gun advocates say the cause of mass-casualty school shootings isn't guns but eroding values. But America has a long history of school shootings. The toll is worse now because of the weapons available. President Obama and his allies in Congress are right to seek a ban on assault weapons.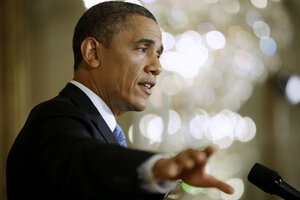 Pablo Martinez Monsivais/AP
As President Obama announced tough new proposals for gun control (like an assault weapons ban and mandatory background checks) in response to last month's massacre at Sandy Hook Elementary School in Newtown, Conn., it's worth remembering another school shooting and the lessons that it has to offer Americans on gun violence.
On Jan. 11 in Columbia, S.C., a boy armed with a gun killed one of his schoolmates and severely wounded several others. Presumably firing upon them in retaliation for bullying, he expressed no regret for his deed.
It's a disturbing story of the sort that raises questions about the direction the world is heading in – the kind of story that makes us long for simpler times.
The year, however, was 1890.
Many gun advocates, of course, would like us to believe that school shootings are a recent phenomenon. After all, if the problem is new and guns are old, then the problem can't be the guns. The root cause, instead, must be an eroding set of values, or inadequate diagnosis of mental health disorders, or a culture of violence at which video games are the rotten core.
Yet the truth is that children have been dying from gun violence in schools for generations.
---