France's disappointing labor reforms
Labor reforms forged by France's Socialist president, François Hollande, may look like progress. But they merely tinker with rigid labor laws. Europe's second largest economy must become far more business friendly if it wants to escape zero-percent economic growth and youth joblessness.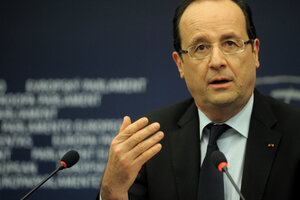 Christian Lutz/AP
Businesses in France have long faced a hostile environment at home, with the country's rigid labor laws among their chief complaints. This matters, as France is Europe's second largest economy, and its economic stability is crucial to the integrity of the euro. So it may have seemed like progress last month when France's Socialist president, François Hollande, forged a labor reform pact between his government, a majority of France's trade unions, and the employers' organization. Yet it can hardly be considered a success.

Instead of introducing needed flexibility into France's rigid labor market, the agreement merely tinkers around the edges. Moreover, labor laws aren't the only reason why France trudged through 2012 with zero percent growth. French economic policy operates under a destructively myopic view on business that underlies France's economic stagnation.
To its credit, the labor agreement, which will likely go to parliament for approval in the spring, eases restrictions on pay cuts, working hours, and layoff procedures. These are the kinds of measures that can help spur job creation in France and other regulation-bound countries in Europe by encouraging labor flexibility.
---