Why America isn't the only country that wants guns for self-defense
The appeal of guns for personal protection is hardly unique to America. Consider gun ownership in South Africa, Britain, India, and Mexico. All these societies are dealing with inequality exacerbated by economic austerity and eroding public services, which breeds fear about insecurity.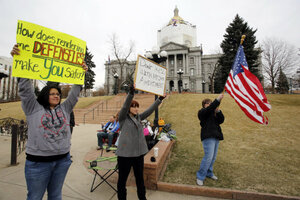 Ed Andrieski/AP
Tony Martin, a British farm owner, shot and killed Fred Barras, a home intruder, in 1999. Neighborhood Watch volunteer George Zimmerman, of Sanford, Fla., shot to death 17-year-old Trayvon Martin a year ago. And last month, South Africa's "Blade Runner," Oscar Pistorius, shot and killed his model girlfriend Reeva Steenkamp, whom he claims to have mistaken for a home intruder. All three faced – or currently face – criminal charges in connection with the shootings. All have claimed self-defense.
These sensationalized cases from across the globe suggest that the American penchant for firearms is less exceptional than many in the United States may think. The appeal of guns is global. Civilians in Mexico have started "self-policing" in the wake of increased fears of crime and inadequate public law enforcement. In India, after the New Delhi gang rape in December 2012, women's demands for gun permits have escalated precipitously. Even Britain is seeing small but meaningful increases in gun permits amid concerns about increasing crime and police efficacy, according to The Guardian newspaper.
---