Why the 90 percent lost on gun background checks
The Senate defeated background checks for gun sales, despite 90 percent of Americans favoring broader checks. The simplest explanation for this is Senate procedures, but NRA intensity counts for a lot. The way ahead for gun control groups is to match the NRA email for email.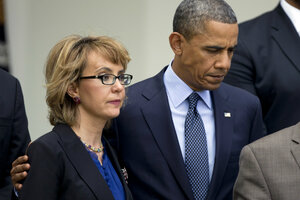 Manuel Balce Ceneta/AP
In the wake of the Sandy Hook shootings, polls have shown overwhelming public support for expanding background checks on gun sales, with one poll showing 9 out of 10 Americans backing the idea. Yet on Wednesday, a bill to do just that went down to defeat in the Senate. As President Obama pointed out, "The American people are trying to figure out how can something have 90 percent support and yet not happen."
The simplest explanation for this disconnect is that Senate procedures enable minorities to thwart majorities. The legislation on background checks had the support of 54 of the 100 senators, but it takes 60 votes to overcome a filibuster.
The Senate rulebook was not the only obstacle. For several reasons, there has often been a chasm between what the people say they want and what their legislators actually do.
First, no member of Congress represents the whole country. The lawmakers answer to specific geographical constituencies, many of which may diverge from national opinion. That's the case with gun control proposals, which often score well in surveys of the whole country while triggering strong resistance in the South and Mountain West. These regions include states with relatively small populations, which enjoy outsized influence in the Senate. Though Wyoming has less than 2 percent as many people as California, it has the same number of senators.
Second, issue polls typically include nonvoters as well as voters. But in the eyes of politicians, nonvoters are nonpersons. Elected officials focus on the people who actually show up to vote, and their sentiments might differ from those who stay home on Election Day.
---