Curbing gun violence after Newtown: Let's arm teachers
Critics worry that arming teachers will create 'fortress' schools and invite gun accidents. But a well-thought-out program can avoid these pitfalls, and take advantage of teachers and staff who are eager to act as trained protectors for our children.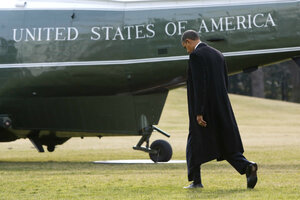 Jonathan Ernst/Reuters
In the wake of the Sandy Hook school attack in Newtown, Conn., President Obama is taking his gun control ideas on the road, and politicians, school administrators, and parents across the country are reviewing school safety. Many are discussing how to better protect schoolhouse doors and update safety drills, whether to add armed guards as the National Rifle Association proposes, and even whether to arm teachers.
That last idea is not as far-fetched as it may sound to some people. America's banks, courts, top elected officials, and super celebrities are protected by armed guards. Armed pilots and air marshals protect us in the skies. So why not armed teachers protecting our children?
State lawmakers in Arizona, California, Oklahoma, South Dakota, and Tennessee have introduced or plan to propose legislation that would allow teachers and/or other school employees to have guns at school. Utah already allows concealed weapons at schools and at least 200 teachers have volunteered for firearms training since the Newtown massacre left 20 children and six adult women dead at the school in December.
---