The GSA and Secret Service scandals: Where's the public virtue?
The misconduct of Secret Service agents and General Services Administration (GSA) workers must lead to reforms and better education of public workers about their special role.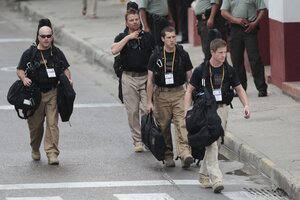 Fernando Llano/AP Photos
One can measure the quality of a society by its civil servants. For many Americans, that simply means judging the wait time at a motor vehicle registry. Or how quickly a letter is delivered. Or how soon a tax refund arrives.
But when scandal hits a few federal agencies that are icons of public service, it is time to recall why a person should work for the government – and it shouldn't be for the benefits.
Washington is now probing recent misconduct by small groups of workers in the armed services, the Secret Service, and the General Services Administration (GSA). One scandal involves hotel carousing and the use of prostitutes by as many as 20 Secret Service and military personnel during President Obama's recent trip to Colombia. The other is an extravagant, $820,000 conference for some 300 GSA workers at a casino spa hotel near Las Vegas.
Both scandals reflect badly on the majority of career federal workers who are ethical, hardworking, and cost-conscious. And the timing of the revelations – during an election season and just before many Americans pay taxes – only adds to a rising distrust of government.
Scandals are hardly new to Washington, although the federal bureaucracy is probably cleaner and more efficient than the days before a professional civil service was instituted. Scandals can also be overblown for political purposes.
---