Getting the fix out of sports
Sports in India, Europe, and the US all suffer from match-fixing. The corrupting influence is sports betting, a vice that shouldn't be further encouraged.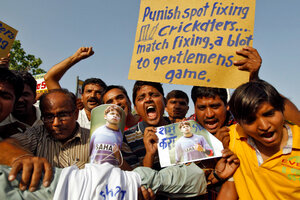 Amit Dave/Reuters/File
The nearly religious fervor that cricket in India produces among its fans puts to shame America's fascination with football or baseball. So a developing major scandal there that involves the fixing of matches is serious business – so serious that one retired cricket official has called for all the top professional matches held in 2013 thus far to be reviewed for tampering.
Europe is suffering its own problems with match-fixing. Last month EU Athletes, a federation of professional player associations representing 25,000 athlete members, held a seminar for professional athletes in 10 different sports, including soccer, rugby, basketball, and handball. It urged athletes to stay clear of match-fixing and warned of penalties if they don't.
The temptation to intentionally underperform in order to swing the outcome of a match seems to be universal and perpetual.
A number of Chicago White Sox, who so infamously cheated to lose the 1919 World Series on purpose, is hardly the last group of American athletes to break the rules. Just a few years ago a National Basketball Association referee was accused of tilting his calls to manipulate the scores of games in order to profit from betting on them. He eventually served time in federal prison.
---