When officials try to ban economic truth
A mandate on Chinese media not to report a credit crunch is the latest example of governments trying to keep bad news under wraps. But the forces for honest financial data are too strong to defy.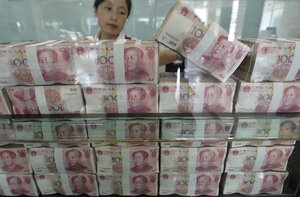 Reuters
It is one thing for a government that spies on others to keep that fact a secret and even go after an employee – such as Edward Snowden – who leaks such secrets. But is it right for a government to also deny facts about the economy and then attack the messengers of those facts?
China is the latest example of this problem in which a country tries to defy the demand of global markets for transparency and honesty in financial data. Last week, the propaganda arm of the Communist Party ordered Chinese media not to use words such as "cash crunch" or "inadequate liquidity" in reporting on what has been obvious for weeks: a near-panic in financial markets as the government tries to rein in a shadow banking industry that has doubled the amount of loans in three years.
Chinese authorities, like England's 11th-century King Canute, who ordered the tides to stop, want to prevent a bursting of a credit bubble through a mandate on what the media tells the public. This may be a lost cause. Even the head of the Bank of China referred to the $6 trillion shadow banking industry as a Ponzi scheme, with lenders doling out loans while promising big returns to investors. (The party's media mandate is akin to a new law that grown children must visit their elderly parents or face official punishment.)
---