Election 2012: the beautiful moment
(Read article summary)
Politics is messy, expensive, comical, infuriating, and often dispiriting -- especially after an interminable US presidential campaign. But voting itself ... that's the real point of democracy.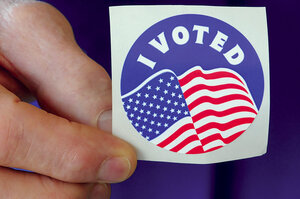 Mike Spencer/The Wilmington Star-News/AP
Journalists are often criticized for their political metaphors. Candidates are said to duke it out in debates, roll through battleground states, or go to their ground game in their race to the finish. Does that demean the political process? Elections, after all, are serious events. The future is being decided. The noble work of "we, the people" is under way.
True, true, and true. Democracy is sacred. Across the world, brave people are fighting for the right to govern themselves. Voting in a fair election is a fundamental act of freedom worthy of honor and protection.
But politics.... Politics is the artful science of campaigning and governing. Politics brings out the eloquent, clever, mean, and absurd in politicians and their handlers, supporters, and rivals. Impossible promises are made; outlandish charges leveled; dazzling smiles deployed. Selflessly or otherwise, politicians abandon their private lives in the quest for office. Their ideas, speech, hairdos, and mannerisms come under constant scrutiny. Was that a smirk? Does he blink too much? She said what?
Americans are at the end of another quadrennial political tournament. There have been memorable moments that have fed the political comedy machine – from Rick Perry's "oops" to Joe Biden's irrepressible grin, Newt Gingrich's moon base to Herman Cain's "9-9-9" plan. And who can forget President Obama's "You didn't build that" or Mitt Romney's "47 percent"? Thanks for the memories, guys.
---