Tolerance: The Nile's age-old lesson
(Read article summary)
To share the resources of the great river in the desert has always required one thing above all else: tolerance. In today's Egypt, that fundamental condition has been severely shaken.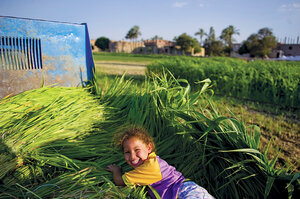 Ann Hermes/Staff
Civilization was born on the banks of rivers. The Indus, Yellow, Tigris, Euphrates, and Nile valleys nurtured agriculture, engineering, astronomy, trade, and generation after generation whose unrecorded lives form the strata of today's world. Riverine cultures had to work out a basic social problem: ensuring that people upstream were fair to people downstream. Tolerance, even if it had to be enforced by the state, was the key.
Cities now thrive far from water sources. The networks of aqueducts and mains that feed our homes, factories, and offices are man-made rivers that most people scarcely notice. But Egypt is still directly connected to its alluvial past. The Nile remains as crucial to daily life as it did millenniums ago.
Ninety percent of Egyptians live along its banks. Winding through parched geography like the stem of a giant sunflower, the Nile made – and still makes – Egypt possible. Nowhere is that more evident than at the Nile's First Cataract at Aswan. Turn your back on the sparkling river and its green and welcoming banks and all you see are sandy hills rolling toward a hazy blue horizon. Face the river and you see the temples that prove the depth of Egyptian history and its intimate relationship with the Nile.
Ancient Egypt lasted more than 3,000 years – far longer than the world we call modern. That was plenty of time to develop an elaborate culture and a system for continuous social stability. For most of that long history, the people of the Nile have worked out their problems peacefully, although in the background, from the days of the Pharaoh until the overthrow of Hosni Mubarak, a powerful military-backed establishment – an entity today's Egyptians call "the deep state" – has ensured order.
---