Gulf oil spill's tar balls latest trouble for Lake Pontchartrain
Tar balls from the Gulf oil spill were first spotted entering New Orleans' Lake Pontchartrain on Sunday, and have disrupted the lake's rebounding fishing industry.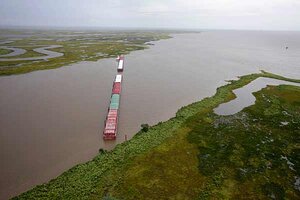 Gerald Herbert/AP
Oil on New Orleans' back doorsteps became a possibility this week with news that tar balls had entered Lake Pontchartrain, the 600-square-mile inland body of water that for generations has been the city's playground and proved to be its Achilles' heel during hurricane Katrina.
Fishing in the eastern waters of the lake was closed due to encroaching oil for the first time Monday, idling commercial fishers and crabbers, and sending hundreds of recreational fisherman back to their docks.
Tom Lopez, president of the Lake Pontchartrain Basin Foundation, first spotted oil entering the lake on Sunday through two passes, the Rigolets and Chef Mentur. Slipping past miles of boom and dozens of barges acting as oil barriers, the quarter- and nickel-size tar balls began washing onto shorelines and docks on Monday. Approximately 2,000 pounds of crude have been collected from the lake since Monday by containment workers using skim nets from small boats, says St. Tammany Parish president Kevin Davis.
Compared with the beaches and marshes stretching from central Louisiana to the Florida Panhandle that have been soiled with oil from the blown wellhead in the Gulf, the oil that has entered Lake Pontchartrain has so far been a minor skirmish in the region's ongoing war with the spill. But the tar balls and oily sheens, blown in over the past few days by remnants of hurricane Alex and another low pressure system that formed just offshore in its wake, are causing worries about what an active tropical storm season could mean for the lake in coming months.
---