Gulf oil spill: BP tests whether new cap can stop leak
BP has begun testing the new containment cap to see if it can do what's proven impossible so far – shut down the Gulf oil spill geyser once and for all. 'Hope and pray,' says a BP official.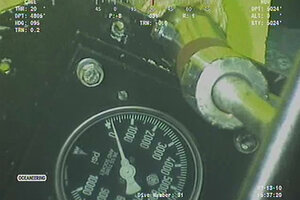 BP/UPI/Newscom
A new, tighter-fitting containment cap lowered onto the source of the Gulf oil spill could stanch the flow once and for all – or indicate deeper problems with the runaway Macondo well.
Over the next 48 hours, BP and government engineers will carefully shut a series of valves on the superstructure at the bottom of the Gulf while remotely operated submarines monitor a critical pressure gauge.
If the gauges read about 9,000 pounds per square inch (PSI), that means the cap can hold back the flow safely. BP would be able to effectively shut the well down with no more oil flowing either into the sea or up to ships on the surface. Though BP will still drill a relief well, the gusher will have been stopped.
If the readings are around 6,000 PSI, however, it could indicate that part of the deep drill pipe is damaged and leaking somewhere below the Gulf floor. In that case, BP would have to reopen the valves on the cap to prevent the oil from leaking out of the pipe and perhaps spouting through the sea floor elsewhere.
"Everybody hope and pray that we see high pressures here," BP senior vice president Kent Wells said Tuesday morning. "Bear with us. Let's do this test."
But even if BP has to reopen the valves, it will likely be able to keep oil from spilling into the Gulf by the end of the month. The Helix Producer ship began capturing oil this week, meaning BP can now collect 33,000 barrels (1.39 million gallons) of oil a day – up from 25,000. Two more ships en route would bring BP's oil-collection capacity to 80,000 barrels a day. The high-end estimate of the well's flow is 60,000 barrels a day.
---