Siberian tigers "starved to death" in Chinese Zoo
Reports said 11 Siberian tigers starved to death having been fed nothing but chicken bones at a Chinese zoo.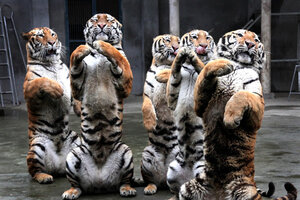 NEWSCOM
Eleven rare Siberian tigers have died at a wildlife park in a startling case that activists say hints at unsavory practices among some zoos and animal farms in China: They are overbreeding endangered animals in the hopes of making illicit profit on their carcasses.
The deaths of the tigers occurred in the past three months at the zoo in China's frigid northeast, officials and state media said Friday.
Reports said the tigers starved to death, having been fed nothing but chicken bones, while a zoo manager said unspecified diseases killed the animals. Either way, the animals had been ill-kept and ill-fed.
The Shenyang Forest Wild Animal Zoo has struggled financially, even withholding pay from staff, said a woman in charge of corporate planning for the zoo who would only give her surname, Wang. The zoo had been up for auction for some time without any bidders, she said.
"You can do the math: one tiger eats 10 kilograms (22 pounds) of beef per day and there are at least 30 of them now, and there are lions, elephants and other animals too," Wang said. "The zoo has been taking money from the staffers' salaries to feed the animals."
The food bill for the tigers ran to about $1,320 (9,000 yuan) a day — nearly half the food allowance the zoo gets from the local government to care for all the animals, Wang said.
---