BlackBerry 10 adds 30,000 apps in seven weeks. Any good ones?
Is 100,000 BlackBerry 10 apps the same thing as 100,000 good BlackBerry 10 apps?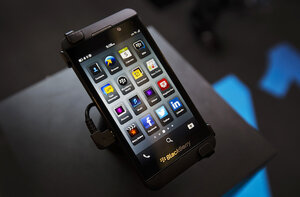 Reuters
Back in January, BlackBerry introduced BlackBerry 10, its latest operating system. Seven weeks later, BlackBerry says it now has 100,000 BB10 apps – 30,000 more than it had at launch – available in the BlackBerry World app store.
"The response to the BlackBerry 10 platform and applications has been outstanding," BlackBerry exec Martyn Mallick said in a statement. "Customers are thrilled with the applications already available, and the catalog just keeps growing, now with more than 100,000 apps. Top brands and application providers are joining us every day and are seeing the benefits of being early supporters of the new platform."
It's certainly true that the appearance of 30,000 new apps is certainly a sign for a company struggling to win back market share it lost long ago to Apple and Google. But it may be helpful to put Mr. Mallick's enthusiasm in perspective. First of all, BlackBerry still lags far behind other operating systems in terms of the number of apps it offers. Google, for instance, offers more than 700,000 apps on the Google Play platform; Apple's iTunes has more than a million.
Furthermore, having 100,000 apps is not the same as having 100,000 good apps. As plenty of other outlets have already noted, it appears that approximately 40 percent of BB10 apps are not original BB10 content. Instead, they are simply "wrapped" – or re-purposed – Android apps.
---