iPad 2 rollout could be affected by Japan quake
(Read article summary)
iPad 2 parts could be in short supply in wake of Japan disaster, analysts warned today.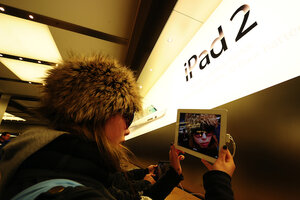 Newscom
The worldwide rollout of the Apple iPad 2 could be affected by the ongoing disaster in Japan, several analysts warned. According to research firm iSuppli, at least five key components of the iPad 2 are manufactured by Japanese companies, including the electronic compass, the touch screen overlay glass, and the DRAM – dynamic random access memory – units.
ISuppli lists five Japanese manufacturers of iPad 2 parts: Elpida Memory Inc., AKM Semiconductor, Asahi Glass Co., Toshiba, and Apple Japan.
"While some of these suppliers reported that their facilities were undamaged, delivery of components from all of these companies is likely to be impacted at least to some degree by logistical issues now plaguing most Japanese industries in the quake zone," iSuppli's Andrew Rassweiler notes in a blog post. "Suppliers are expected to encounter difficulties in getting raw materials supplied and distributed as well as in shipping out products."
---