Apple iPhone 5 delays? Blame the screen technology.
(Read article summary)
Apple is having trouble immediately fulfilling pre-order demand for the iPhone 5. And according to a new report, that's thanks to the new 'in-cell' display technology.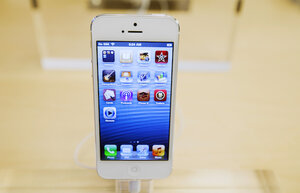 Reuters
The iPhone 5: It launched last week. It was popular. It remains popular (although perhaps not quite as popular as some analysts had predicted). And it is delayed.
If you pre-ordered an iPhone 5 sometime in the last 10 days, there's a good chance you won't see your shiny, new, big-screen smartphone until October, which is something of a hassle if you're one of those instant-gratification types.
So what's behind the delay? Well, according to a new report in Bloomberg, it's the rejiggered display on the iPhone 5. In the iPhone 4 and iPhone 4S, the display and touch sensor were separate. In the iPhone 5, they're twinned – the technology is called "in-cell." Bloomberg says it's taking Apple longer than expected to wrestle up the various parts needed for the in-cell displays and to actually assemble the screens.
---