Better Place: Turning Israel into electric car country
Israel could be the first country with a nationwide electric car network, thanks to Better Place. A battery swapping station just opened outside Tel Aviv.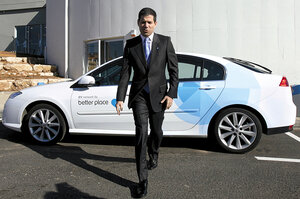 Gil Cohen Magen /Reuters/File
The future of transportation may lie in what looks like a modernist car wash.
In Israel in March, software entrepreneur Shai Agassi unveiled what could be the start of the world's first nationwide electric-car battery swapping station network. A white-and-blue Renault Fluence ZE sedan silently pulled into a drive-through lane. The floor beneath opened as a robot removed the car's 550-pound battery and swapped in a new one. About three minutes later, the car rolled away, ready for 100 miles of emissions-free driving.
This new station is part of a $175 million system that Mr. Agassi claims will end the era of the internal combustion engine, all at the cost of what Israelis spend on seven days of fuel.
RELATED: Five new technologies that will change the world
"When Israel proves it can get off its use of gasoline at the cost of one week of gas, I don't know of one country that will say, 'let's stay on gas for another week,' " says Agassi, the Israeli-American founder and chief executive officer of Better Place in Palo Alto, Calif.
Under Agassi's plan, Fluence ZE owners will pay an initial fee for a home charging outlet and monthly payments for use of public charging spots and battery swapping stations across the country.
---