Surface Pro: Heart of a PC, body of a tablet, price tag of a Mac
The Microsoft Surface Pro tablet will debut in January, Microsoft reps confirmed today.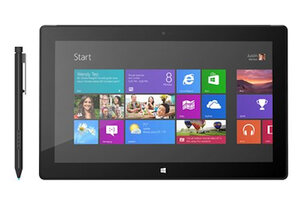 Microsoft
Microsoft announced the sales price and launch window for the Surface Pro, the latest addition to the Surface tablet line.
According to Microsoft, the Surface Pro – actual name: Surface with Windows 8 Pro – will retail at two price points: $899 for a 64 GB model and $999 for a 128 GB edition. (Want the Touch Cover keyboard? You'll have to buy it separately.) The device, which is intended for IT professionals and design types, should arrive in early January – too late, it's worth noting, to really capitalize on the holiday shopping rush.
"Surface with Windows 8 Pro will come with Intel's next generation Core i5 processor," Microsoft's Panos Panoy wrote in a blog post today. "This chip will give Surface with Windows 8 Pro a graphics boost for its 10.6-inch 16:9 ClearType display that runs at a 1920 x 1080 full HD resolution. Surface with Windows 8 Pro also includes a full-size USB 3.0 port. Its Mini DisplayPort can drive an external display up to 2560 x 1440 resolution."
---