Google launches free Wi-Fi network in New York
Chelsea, home to Google's NYC HQ, will get a free Wi-Fi network, Google and NYC mayor Michael Bloomberg announced today.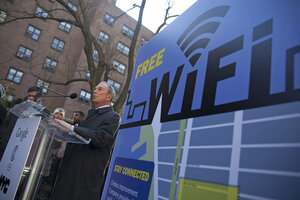 Reuters
New York Mayor Michael Bloomberg announced at a press conference today that Google will help to launch a free Wi-Fi network in the Manhattan neighborhood of Chelsea. The project will be the largest free network in the city, and a boon to the dozens of tech start-ups and Internet companies, including Google, that call Chelsea home.
According to CNN, the network cost $115,000 to get off the ground; annual maintenance costs will total $45,000. Google is reportedly responsible for two-thirds of all expenses; the remainder falls to Chelsea Improvement Company, a community group.
"It's not very expensive at all – just a smidgeon of what Sandy cost," US Senator Chuck Schumer said at a press conference in Manhattan today. "The mayor and I said maybe we could get this done for all of New York. We look forward to the day when all of New York has free Wi-Fi."
---