Twitter lambasts new Google search feature
(Read article summary)
Search Plus Your World, the new initiative from Google, has come under fire from the folks at Twitter.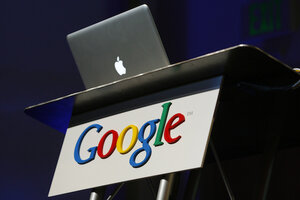 Reuters
This week, Google introduced an initiative called Search Plus Your World, which will combine standard search results with items culled from Google+ and photo-sharing sites such as Picasa. The idea, generally speaking, is to expand the reach of Google, from regular ol' websites to the "social web" – where most Internet users operate today.
Search Plus Your World, expected to hit many computers today, is controlled via a toggle switch. Turn it on and search results will change based on your friend's tastes. Switch it off to return to the standard Google view. But that's not quite enough for Twitter, which today issued a strongly-worded statement about Search Plus Your World, expressing concern that Twitter results would be harder to find under the new system.
"As we've seen time and time again, news breaks first on Twitter; as a result, Twitter accounts and Tweets are often the most relevant results," the statement read. "We're concerned that as a result of Google's changes, finding this information will be much harder for everyone. We think that's bad for people, publishers, news organizations and Twitter users."
---