Surface: Microsoft reveals price tag for its Windows 8 tablet
(Read article summary)
Can the Windows 8-powered Microsoft Surface tablet compete with the Apple iPad and the Samsung Galaxy Tab line?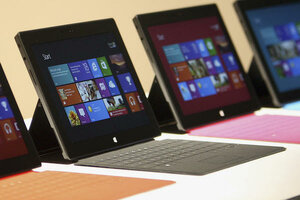 Reuters
The Microsoft Surface is a go.
Beginning today, people can pre-order the Windows 8 tablet, which is being positioned as a high-powered alternative to the Apple iPad and the Samsung Galaxy Tab. The Surface is available at three price points: $699 for a 64 GB model with a "Touch Cover" (a case plus keyboard, basically); $599 for a 32 GB model with a Touch Cover; and $499 for a 32 GB model without a Touch Cover.
Available colors include Red, Black, Cyan, and Magenta. Pre-orders are currently expected to ship by Oct. 26; you can order a device here.
So let's get down to it: How seriously should you consider buying a Microsoft Surface?
Well, it's worth noting that as of late this summer, Apple owned a whopping 69 percent of the tablet market, with Samsung (the maker of the Galaxy Tab line) in a distant second and Amazon (maker of the Kindle Fire line) in an even more distant third. With the release of the iPad Mini – which is widely expected to launch late this month or early next – Apple could see its lead grow even larger.
---