BlackBerry PlayBook: Why BlackBerry owners will love this tablet
BlackBerry PlayBook goes on sale next month, a year after the original iPad. So, is the BlackBerry tablet worth the wait?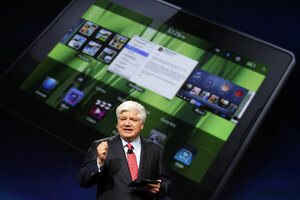 Reuters
Research In Motion announced today that its BlackBerry PlayBook will launch April 19. The 7-inch tablet computer will cost between $499 and $699 – same as the iPad 2, even if Apple's tablet has about twice the screen size. Below are some questions and answers about the BlackBerry tablet.
Do I need a BlackBerry to make the most of PlayBook?
In a word, yes. The first version will not have its own cellular connection, instead relying on WiFi to access the Internet for itself.
Using a secure Bluetooth connection, the PlayBook will ''bridge'' with a BlackBerry to access corporate or consumer email, address book, calendar and other features including BlackBerry Messenger.
When the link is broken, all that data is instantly wiped.
The company has set up this relationship deliberately to pitch PlayBook to corporations and other security-conscious enterprises that will not need to verify the PlayBook's credentials; it will effectively not exist on their radar.
It can also pair with any smartphone able to act as a mobile hotspot; this point has not been heavily advertised.
---