Post oil: Glimpses of life after fossil fuel
Contentious debates about "peak oil" aside, imagining how the world looks post oil is increasingly easy as alternatives to fossil fuel develop rapidly.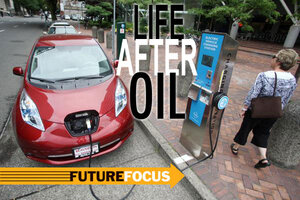 Rick Bowmer/AP
Americans like to imagine the future. From the world's fairs of the early 20th century to futuristic magazine features in the 1950s to the 1980s "Back to the Future" films, we love dreaming up what might come next.
When we dream, it turns out, we dream without oil. The show-stealer at the Chicago World's Fair in 1893 was a demonstration of alternating current – a massive generator that made it possible to snuff out household oil lamps and switch on a light bulb. Doc's time machine in "Back to the Future" runs on garbage, and the "hoverboard" the hero in the film's sequels hops on to outrun the bad guys flitted on whimsy, not oil. And no one in the "Star Trek" franchise ever said, "Captain Picard, we need to swing by the gas station."
With today's volatility at the local pump, contentious debates about "peak oil," and soaring global interest in biofuels, imagining how the world looks without oil isn't just a fanciful distraction. There's lively debate about how far away a post-oil world is – earliest estimates are around 2030, while many analysts say that, as technology changes to accommodate fluctuations in the oil supply, we'll never technically see an end to oil. But advisory bodies such as the International Energy Agency and the US National Intelligence Council expect oil demand to spike, and supply to dwindle, over the next 15 years – which makes imagining a post-oil future an urgent task of the present.
---