'The Fighter' star Mark Wahlberg confirms 'The Fighter 2' is in the works
(Read article summary)
Mark Wahlberg made a very public official announcement at the Spike TV Guys Choice Awards: he is indeed moving ahead with 'The Fighter 2.' Will the cast and director David O. Russell also return for 'The Fighter 2?'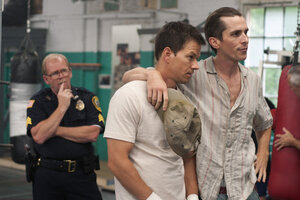 Jojo Whilden/Scripps Howard Photo Service/Newscom
The Fighter was one of the best movies of 2010, and also one of most (pleasantly) surprising. Many expected a traditional sports drama biopic, but instead, quirky auteur David O. Russell delivered a darkly funny look at the life and rise of middleweight boxer "Irish" Micky Ward to the status of champion in the early 2000s.
However, boxing fans know that Micky's rise to champion was only the beginning of his story – which is why Fighter star Mark Wahlberg let it be known early this past spring that The Fighter 2 was in the works.
Since that initial reveal by Wahlberg, The Fighter 2 has been gradually veering into the fast-track. First we learned that Wahlberg was pushing the project ahead, with plans to reprise his role as Ward; soon after that, we learned that David O. Russell was interested in at least writing the project (if not returning to direct).
---