'The Devil Inside' writers are making another movie -- a sequel?
(Read article summary)
'The Devil Inside' writers say they're making another found-footage horror movie. Will it be a 'Devil' sequel or something new?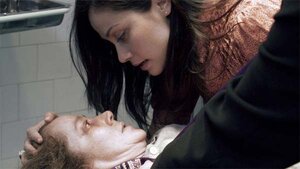 HONS/Paramount Pictures/AP
Hot on the heels of a demonic monster opening weekend at the box office (to the tune of $34.5 million) for The Devil Inside, the film's writer/director (William Brent Bell) and co-writer (Matthew Peterman) are already preparing to shoot another, currently untitled, "found footage" style horror film.
It's no surprise to hear that the pair is moving fast, especially considering that most box office experts are expecting a major drop-off for The Devil Inside in the coming week – due to negative word of mouth and the unenthusiastic response of the critical community (read our review of The Devil Inside). However, regardless of the film's reception, it managed to do big bucks on a $1 million budget – making the pair an attractive prospect for Hollywood executives.
According to The Hollywood Reporter, CEO of Sierra/Affinity, Nick Meyer had no problem touting the pair's accomplishments – even if The Devil Inside legacy is still up in the air:
"From day one, we have been huge fans of this filmmaking team and the way they have crafted a unique movie-going experience with The Devil Inside. These are filmmakers we know and trust and they bring an original voice and style to our next project that will once again introduce audiences to a new expectaiton of what one can define as a genre film."
---