'Touch' star Kiefer Sutherland on acting with his young costar, David Mazouz
(Read article summary)
'Touch' star Kiefer Sutherland says playing a father persevering against impossible odds appealed to him right away. A Q&A with Kiefer Sutherland.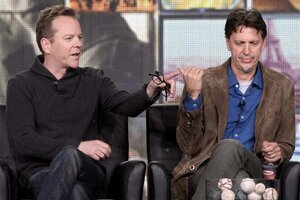 Jonathan Alcorn/Reuters
Giving credence to the old idiom that you can't keep a good man down, Kiefer Sutherland returned to television Wednesday night in Tim Kring's 'Touch.' Cooler still, much like his most famous small screen ego that saw him defeat evildoers twenty-four-hours at a time, the artist formerly known as Jack Bauer will once be asked to save the world. Except this time, as widower Martin Bohm, he'll be doing so through a [misdiagnosed] "autistic" son [David Mazouz] whose obsession with numbers may turns out to be a ... lot more than meets the eye.
When an actor has had the type of success you had with such a groundbreaking series like 24, they rarely come back to television so quickly. What was it about 'Touch' that enticed you to return so soon?
Kiefer Sutherland: It was a combination of things. I had an unbelievable experience on 24, we shot 198 episodes and I was as excited about shooting the 198th as I was the first. And so that combined with this script, it wasn't even really a choice anymore. It was something that I knew I had to do. I remember thinking about it really strongly when I was crossing the street in New York and the person who I work with Susan, I remember saying to her if we don't do this, how are we going to feel in September watching it knowing all of its potential and how great we both think it can be. And that answered my question for me. I didn't want to be sitting there watching this fantastic show in September if I had had the opportunity to be a part of it.
In terms of the script, at what point did you connect with this new character of Martin Bohm?
---