'The Amazing Spider-Man' trailer and footage give hope to some doubtful fans (+video)
(Read article summary)
'The Amazing Spider-Man' trailer and spectacular 3-D footage show a great turn by Andrew Garfield as the title character.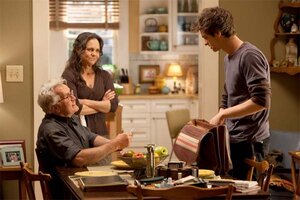 Jaimie Trueblood/HONS/Columbia Sony Pictures/AP
The Amazing Spider-Man trailer is out, and fans are definitely talking. Before the new trailer dropped, it's fair to say that popular opinion on the film was mixed at best, brutally critical at worst; now, the tide is suddenly starting to shift.
We had the opportunity to attend a live event where a 3D version of the new Amazing Spider-Man trailer was previewed for crowds gathered in cities like NYC, London, Rio de Janeiro and LA, with surprise appearances in those respective cities by ASM stars Andrew Garfield, Rhys Ifans, Emma Stone and director Marc Webb. If a 3D trailer and cast appearances weren't enough, we also got a look at a longer reel of footage that was first screened at this summer's Spider-Man Comic-Con panel.
First, check out the new Amazing Spider-Man trailer if you haven't seen it, then read on for our discussion:
The 3D is Amazing
Director Marc Webb went to great lengths to inform us that The Amazing Spider-Man was indeed filmed in 'true 3D' – i.e., shot with 'those big bulky 3D cameras,' as Webb told us (with a look of lighthearted frustration) – and the results of that effort certainly shows up onscreen.
---