'The Walking Dead' midseason premiere shows the characters finding their focus
(Read article summary)
'The Walking Dead' moved slowly at the beginning of season 2, but the action seems to be heating up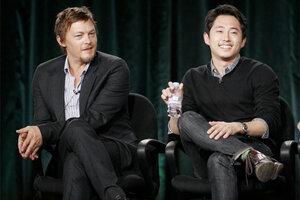 Danny Moloshok/FRE/AP
Given the difficult circumstances The Walking Dead survivors found themselves in at the end of the midseason finale, the return episode -titled 'Nebraska' – really had no choice but to pick up immediately following Rick's decision to shoot Sophia. That being the case, the majority of the episode works as a direct extension of 'Pretty Much Dead Already' – which, as expected, works out to be an exercise in guilt, grief and for some, the realization that believing in hope is tantamount to standing idly by.
Although there are plenty of lingering plot points and character threads the episode could have chosen to cover, 'Nebraska' steers clear of hurrying along the storyline for the sake of getting things moving, but the episode feels dutiful and filled with a purpose, nonetheless.
Now that the search for Sophia (Madison Lintz) is over, so too is the sense that there is something to wait for. So now, Rick (Andrew Lincoln), Shane (Jon Bernthal) and the rest of The Walking Dead's core survivors can busy themselves with the task at hand. Largely, that means cleaning up the walkers which had been stumbling around Hershel's barn. But perhaps more importantly, it means beginning a period of mourning for not only Carol (Melissa Suzanne McBride), but also Hershel and his daughters, who had been holding out belief their loved ones weren't actually dead.
---