'The Walking Dead' survivors try to move on after a death
(Read article summary)
'The Walking Dead' follows the group of survivors trying to pick up the pieces after a shocking death.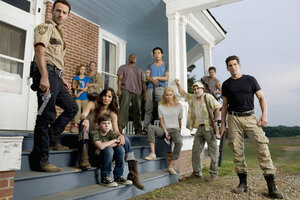 Gene Page/HONS/AMC/AP
This recap contains MAJOR SPOILERS for the episode 'Better Angels. Stop reading now if you haven't seen the episode yet.)
Early on in 'Better Angels,' it looked like the untimely death of Dale (Jeffrey DeMunn) had instilled in The Walking Dead survivors a sense of kinship that had been overshadowed by the constant internal squabbling, which plagued them more relentlessly than a group of walkers. With Lori apologizing to Shane and Hershel inviting his guests to share the house with the family, it seemed like there was an organized effort to not let the group's proverbial moral center be buried with Dale.
Rick's eulogy for Dale is inter-cut with scenes of Shane (Jon Bernthal), Andrea (Laurie Holden), T-Dog (IronE Singleton) and Daryl (Norman Reedus) all working out their various feelings and frustrations on a group of walkers that had managed to find their way onto the relatively zombie-less grounds of Hershel's farm.
Afterward, with the group together, Rick (Andrew Lincoln) shares his plan for he and Daryl to ditch Randall (Michael Zegen) about an hour away from the farm. Shane and Rick have another terse conversation regarding the decision to let Randall live, but after the talk the two had at the end of '18 Miles Out,' Rick feels confident that Shane is more or less onboard with whatever decision he makes.
---