College may be out of reach for young immigrants
College may not be an option for young adults who can't apply for loans or private scholarships.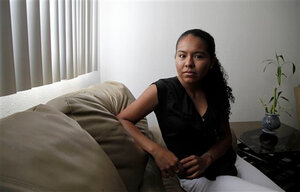 Reed Saxon/AP
MIAMI (AP) – Araceli Cortes had made up her mind: After being brought to the U.S. as a child, graduating from high school and attending some college in California, she was going to return to Mexico to pursue her dream of becoming a doctor.
She quit her job, bought an airline ticket and reserved a seat to take a medical school entrance exam.
Then, a week before her departure, President Barack Obama announced that young illegal immigrants like Cortes would be given the chance to remain in the United States and obtain a work visa. Cortes canceled her ticket and decided to stay.
This week, she and thousands of other immigrants began the application process. But she and many other student immigrants could face some tough obstacles.
"It's not giving me much," Cortes, 20, said. "It's just a two-year permit."
Obama was clear in announcing the order: This was not a path to citizenship, but rather an opportunity to avoid deportation and work.
For the students who are illegal immigrants and have graduated from college, the new policy means they will have the opportunity to work in their field of study, something they could only do as independent contractors or unpaid interns before.
For younger immigrants like Cortes — as many as 65,000 of whom are estimated to graduate from high school each year — some barriers to earning a college degree will be removed. The main hurdle, however, will remain cost. Federal loans and grants, the largest source of aid for college students, require students to have a green card or U.S. citizenship.
---