Jewish holidays: How not to scare the kids with the imagery
The Jewish holidays between Rosh Hoshana and Yom Kippur are one son's "gray zone" where a mom finds the conundrum of explaining light and consciousness. She contemplates how not to scare kids in exacting meaning from biblical subtext.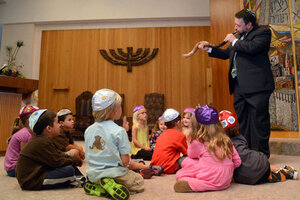 AP
I've been thinking a lot about color lately. Or more to the point, the presence and absence of light that make up white and black. I think all this consideration of color reflects the fact that I've been vacillating somewhere between hope and despair this High Holiday season.
It's a state of mind that squarely puts me in the middle of the gray zone. That's Adam's term for these 10 intermittent days between Rosh Hashana and Yom Kippur. I clearly remember when he first mentioned the gray zone. It was fifth grade and he had just learned about the Ten Days of Awe – the days between the High Holidays. He didn't see anything awesome about being suspended in doubt and self-criticism.
RELATED: Top 5 bullying myths - What you don't know about bullying
Which leads me to the conundrum at the heart of the gray zone discussions I had with him. How do you explain the High Holidays to kids without scaring the living daylights out of them? Just the images alone send me into black hibernation. No light, no consciousness. Let God add and erase names in the Book of Life without my awareness.
But that's not exactly good role modeling. If there's anything that should be deleted it's our understanding of the Sunday School God that dips a feathered quill into ink and enters names as part of some macabre accounting. The God I first became acquainted with had a flowing white beard. When I was a little older, he looked exactly like my Uncle Mac of the booming voice and the rosy cheeks. Uncle Mac was God on earth.
---