Baby pacifier study: Daytime use blocks key facial expression
The baby pacifier used in the daytime may disrupt emotional development, a University of Wisconsin study says, because baby can't mimic facial expressions. The twist? The problem seems only to show up in boys, not girls.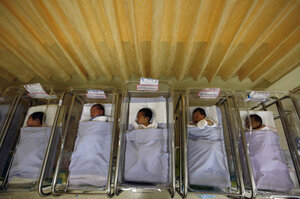 Reuters/File
Parents who don't want their baby boys to grow up emotionally stunted may want to pocket their pacifiers during the daytime.
A new study from the University of Wisconsin-Madison suggests frequent pacifier use during the day may disrupt the emotional development of baby boys because it limits their opportunity to mimic the facial expressions of others — a tool that may help them better understand emotions and learn empathy.
RELATED: Are you a 'Helicopter Parent?' take our QUIZ!
The study assumes babies can't smile, pout or furrow a brow with a pacifier in their mouths, and many parents may beg to differ with that.
Girls appear to make sufficient progress emotionally, despite pacifier use, suggests the research published in Tuesday's issue of the journal Basic and Applied Social Psychology.
Humans of all ages read each other's emotions partly by mimicking their facial expressions, which helps them process what the person is thinking and feeling by creating some part of the feeling for themselves, says the study's lead author, Paula Niedenthal, a University of Wisconsin psychology professor.
A baby with a pacifier in his mouth is less able to mirror expressions and the emotions they represent, she said.
Niedenthal and her team of researchers conducted three studies to test the relationship between pacifier use and emotional information processing, both in the United States and in France.
---