Mother's Day: Childhood milestones aren't motherhood's tombstones
(Read article summary)
Mother's Day: A mom with a daughter headed off to college thinks about the long days and short years of motherhood. Marking childhood milestones as new phases for everyone makes means they are not tombstones of motherhood that ends when kids go away.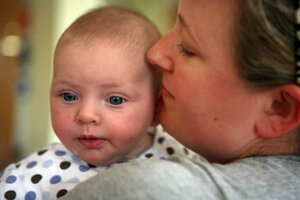 Melanie Stetson Freeman
My colleague KJ Dell'Antonia, editor of The New York Times parenting blog Motherlode, pointed out in a recent post that there are 940 Saturdays between the time your child is born and the time she turns 18. KJ's calculation comes from Harley Rotbart, a parent, a pediatrician and author of a wise book called No Regrets Parenting.
The days of early parenthood are long and chaotic and exhausting. Sometimes those days lead into nights that are puzzling or downright scary. I still remember the times when Anna or Adam's cries broke through the scrim of night or light sleep. Ken and I felt helpless as we asked each other the same question over and over: What do you think is wrong with her?
"I don't know," the other would say. "What do you think is wrong with her?"
There's an old chestnut that says the very definition of insanity is repeatedly asking the same question, but expecting a different answer. The truth is there was no answer. We never found out why our babies cried. We never understood why Adam's colic descended like the darkest cloud and then lifted just as suddenly five months – yes, five months – later.
As the mother of an almost 18- year-old who has an exact date for when she starts her first year of college, I've put aside Dr. Rotbart's calculations. I simply pretend that time is still on my side.
---