iPad school: New media is altering teaching style, creates digital students
iPads and smartphones are two examples of new media forms changing how teachers design lesson plans and interact with students. Digital learning is being increasingly advocated in urban schools across the country.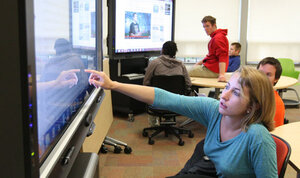 AP Photo/The Telegraph, John Badman
The notice could be posted in any campus building: "iPad issues? Visit the Genius Bar in the Media Center."
But this isn't college. It's Hopkins West Junior High.
Inside Kim Campbell's seventh-grade social studies class, every student gets to keep one of the Apple tablets for the year. They use them constantly, researching class projects, reading e-books and communicating with teachers. On this day, students are using a maps app to study geography.
The iPads in Hopkins' schools are just one edge of a digital revolution in metro-area classrooms that is changing teaching and learning as fast as the latest device is introduced. YouTube videos are replacing in-class lectures. Music applications help students learn to read music and play instruments. Teachers distribute and grade assignments digitally. Gadgets once seen as distractions are now front and center on desks as essential learning tools.
For parents, the rapid changes can be bewildering. Some skeptics argue the technologies are expensive and create a digital divide between schools that can afford them and those that cannot. Others say they are being deployed too quickly, without teachers being trained to use them.
But schools show no sign of pausing or turning back.
---