Homework help is overwhelming for some parents
Helping with homework is too much for some moms and dads, but others say after-school worksheets will help kids in the long run.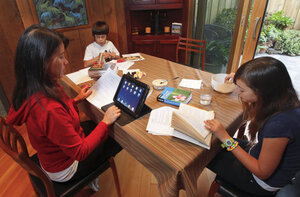 The Christian Science Monitor/Tony Avelar
The words slip off the tongue of the dad who triages a math assignment from his corner office or the mother who darts home from work to review dozens of spelling words: Stop the homework insanity!
I've uttered those words myself, often late at night after my daughter is melting down from hours of math problems on top of essays and chapter outlines. Ask almost any parent, and they will tell you that the volume of homework that fills their kid's agenda is overwhelming.
To rebel, books and websites have been dedicated to the Stop Homework movement, urging letter writing campaigns and teacher confrontation. Last week, I read about a woman who bragged that her grade school daughter had never done a lick of homework. Each year, the mom sits down with the teacher and principal and explains that her daughter will pay attention, get stellar grades and perform well on tests but she will not do homework. She tells the school they can alert her if intervention is required. Somehow, this has worked.
Yet I'm wondering if we're taking the wrong approach. Is the homework insanity we complain about as working parents, the key to preparing our kids for the workplace of the future?
One father I know convincingly argues that homework, even volumes, is critical preparation for career success. "It's not realistic for us to raise kids to think they're going to work 9 to 5, leave and they're done," he said. "These kids are going to need to be well prepared to handle all the meetings and projects and emails that come at them in the workplace."
Clearly, there are new rules we play by in the workplace today. If you want a decent job that will lead to a decent life, you have to work harder and smarter. Workplace experts say the next generation of workers will need to be innovators, problem solvers, open-minded risk-takers with the ability to learn new things, adapt to new work situations and maintain high productivity.
---